Confidence in Joe Biden has declined sharply around the world since his first year in office, even as global views of the United States continue to improve following record lows under Donald Trump, a recent survey has found.
Among more than a dozen publics in North America, Europe, the Middle East and the Asia-Pacific, median confidence in Biden was at 60 percent, according to a Pew Research Center report on June 22. Its analysis links the dip—down an average of 15 percentage points from 2021—to initial enthusiasm after Trump's presidency, as well as the Biden administration's handling of the U.S. withdrawal from Afghanistan last summer.
Some of the biggest declines were recorded in Italy (down 30 points), Greece (down 26 points) and Spain (down 25 points), while drops in excess of 15 points were also reported in Singapore (down 22 points), France (down 21 points) and the Netherlands (down 19 points), Pew's results found. Among countries where directly comparable data was available, only South Korea (up 3 points) recorded an increase in confidence in Biden.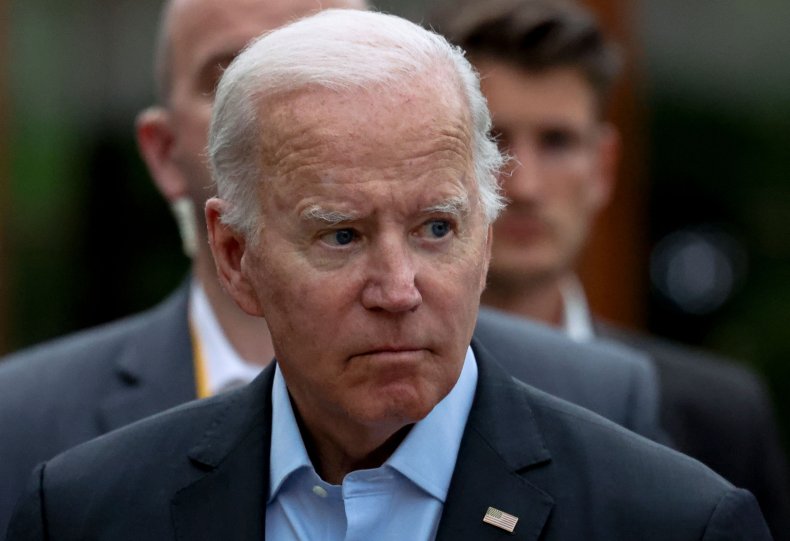 Pew's report attributes Biden's second-year approval to an averaging out of the initial rebound following the tenure of former President Trump, whose median confidence dropped to just 17 percent in his final year. The survey found that, on average, a majority of 51 percent of publics viewed the withdrawal of American troops from Afghanistan as the right decision, but 57 percent saw the exit as having been poorly handled, causing a further hit to confidence in Biden.
Global trust in Biden has so far failed to reach the highs enjoyed by Barack Obama, but they exceed those experienced by Trump at any time between 2016 and 2020, according to Pew. Confidence in Biden was highest in Poland (82 percent), Sweden (74 percent) and South Korea (70 percent), and lowest in Greece (41 percent), Italy (45 percent), Spain (48 percent) and Singapore (48 percent).
His median approval of 60 percent was slightly worse than that of President Emmanuel Macron of France (62 percent) and slightly better that of Chancellor Olaf Scholz of Germany (59 percent), while each suffered from roughly one-third no confidence among the 18 publics surveyed.
Biden, Macron and Scholz enjoyed much higher ratings than President Xi Jinping of China (18 percent) and President Vladimir Putin of Russia (9 percent), both of whom are experiencing record or near-record lows in the Pew polling on global attitudes. The publics in Malaysia (62 percent for Xi and 59 for Putin) and Singapore (69 percent for Xi and 36 for Putin) reported the most trust in the two heads of state to "do the right thing regarding world affairs."
Despite Biden's individual slip down the global confidence ladder, favorable views of the U.S. are on the rise, the numbers showed. It enjoyed a median favorability of 61 percent, versus 35 percent unfavorable views. The U.S. was viewed…


Read More: Joe Biden's Approval Rating Plummets Internationally: Poll