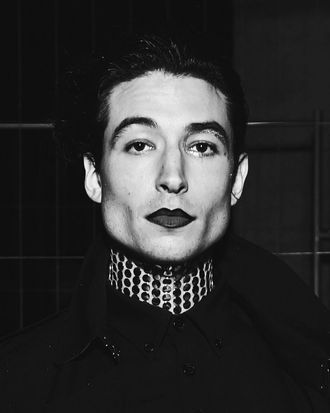 Photo: Pascal Le Segretain/Getty Images
In the past few months, Ezra Miller has been arrested twice and accused of multiple instances of physical assault as well as brainwashing 18-year-old activist Gibson (formerly Tokata) Iron Eyes and keeping them from their parents. On Wednesday, another allegation surfaced after a courthouse issued a temporary harassment-prevention order against Miller on behalf of a mother and her 12-year-old child.
Miller has not publicly commented on this most recent allegation, and law enforcement is reportedly unable to find the actor to serve them with a protective order obtained by Gibson's parents, Sara Jumping Eagle and Chase Iron Eyes, on behalf of their child. After reportedly posting memes that seem to be mocking the police in their search, Miller deleted their Instagram. A hearing in the case is reportedly scheduled for July 12.
Meanwhile, Miller is still set to star in The Flash, which is planned for a 2023 release. Here's what you need to know.
Allegations of violence have surrounded Miller since April 2020, when a video that appeared to show Miller choking a woman went viral. The incident took place in a bar in Iceland, and while the cops were not called, TMZ reported that Miller was asked to leave the bar.
Earlier this year, Miller was arrested twice in Hawaii, first in March for disorderly conduct and harassment at a karaoke bar and again in April for second-degree assault after they allegedly threw a chair at a 26-year-old woman in a private residence. Miller posted bail on both occasions and was released but was charged for at least one of the incidents, and Hawaii police said in April that its investigation was ongoing. Also in April, an unnamed couple filed and then dismissed a temporary restraining order against Miller, claiming that the actor, who had stayed with them in Hawaii, burst into their bedroom and threatened them. "I will bury you and your slut wife," Miller allegedly told the male victim. The couple claimed that Miller had also stolen personal belongings including a Social Security card, a passport, and credit cards.
This month, Sara Jumping Eagle and Chase Iron Eyes sought a protective order from Miller on behalf of Gibson Iron Eyes, an 18-year-old who had reportedly been living with Miller since December 2021. As originally reported by TMZ, the couple allege that Miller met the family during protests at the Standing Rock Reservation in 2016, when Gibson was just 12 years old. From then, Miller and Gibson developed a friendship. In 2017, the parents claim, Miller flew Gibson, then 14, and a chaperone to London to visit the set of Fantastic Beasts and Where to Find Them.
In the years that followed, Gibson's parents claim that Miller convinced them to send Gibson to Bard College at Simon's Rock in Massachusetts and said they would pay tuition through a foundation, an offer they claim Miller used "to create a sense of indebtedness." They allege in legal documents that Miller provided Gibson with…


Read More: All the Allegations Against Ezra Miller